Video Splitter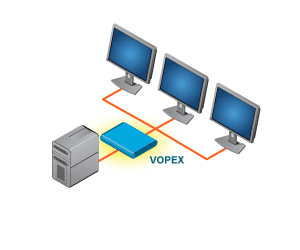 Use one computer to display the same high-resolution image on multiple monitors
Also known as: Video Splitter, VGA splitter, monitor splitter, screen splitter, SVGA video splitter, touch screen splitter, workstation video splitter, video hub, multiple screen distribution, dvi video splitter, hdmi video splitter, video splitter over cat5..
Video Splitter, Monitor Splitter
The VOPEX® DVI/HDMI 4K Video Splitter simultaneously displays the same Ultra-HD 4Kx2K image from one single link DVI/HDMI video source to two displays.

The VOPEX® DVI Video Splitter enables up to 16 single link digital DVI displays to be driven by a single digital DVI source with no loss of signal.
The VOPEX® VGA video splitter (video port expanders) enables up to 16 VGA monitors to be driven by a single PC. The same image is displayed on up to 256 monitors by cascading. It is available with optional stereo audio and/or rackmount enclosure.
Video Splitter/Extender with Audio